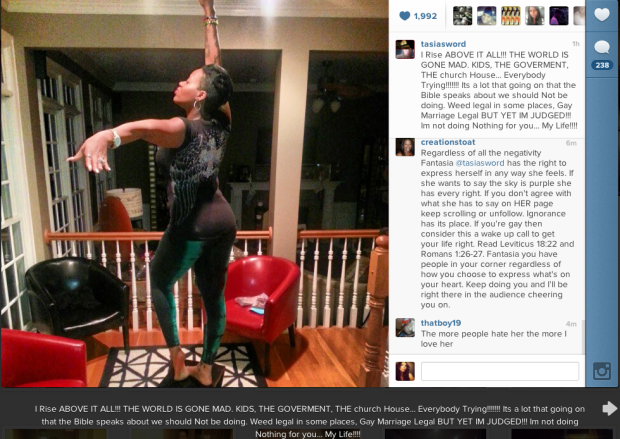 Singer Fantasia Barrino is clearing the air after posting this Instagram photo saying the world has gone mad and making comments about gay marriage.  Here's what she originally posted:
"I Rise ABOVE IT ALL!!! THE WORLD IS GONE MAD. KIDS, THE GOVERMENT, THE church House… Everybody Trying!!!!!!!," she wrote. "It's a lot that going on that the Bible speaks about we should Not be doing. Weed legal in some places, Gay Marriage Legal BUT YET IM JUDGED!!! Im not doing Nothing for you… My Life!!!!"
Now Fantasia is clearing it up:
It has been brought to my attention that something I said was taken out of context. I, Fantasia Monique Barrino, don't judge anyone because I don't want to be judged. The gay community is one of my largest supporters. I support the gay community as they support me. Bloggers please stop misrepresenting the facts.