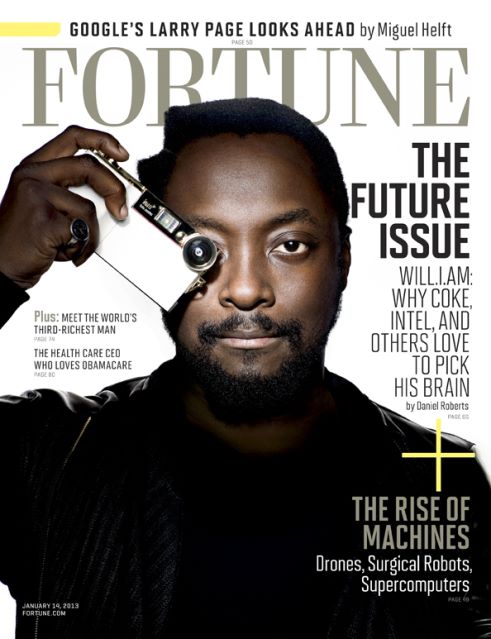 Check out this interesting excerpt from the article.  Will.i.am is doing big things that don't just involve music anymore.
Adams, 37, is nominally Intel's director of creative innovation. But that hasn't involved appearing in television advertisements (or drawing a traditional salary). Adams's job at the chipmaker — yes, he actually has a working badge for its Santa Clara, Calif., headquarters — is idea generator. He essentially holds an Intel fellowship to dream up long-term notions of what consumers might want 10, 20, 50 years from now. Intel futurist Brian David Johnson affectionately calls Adams "a real geek" and says they hash out ideas about once a month.
Adams's recently launched digital camera, the i.am+ foto.sosho, is one example. In February of 2012, he was on a boat watching the swimsuit model Adriana Lima get photographed when he had an idea to give the iPhone a more powerful camera lens. He spoke with tech industry pals, funded it himself, and by December the product was on shelves. The $325 accessory, pictured on the cover of our January 14 issue, snaps onto the back of an iPhone, dramatically improving the quality of the built-in camera. An app co-designed by Adams adds photo-editing and sharing tools similar to Instagram. The gadget launched last month at Selfridges, the British department store chain.