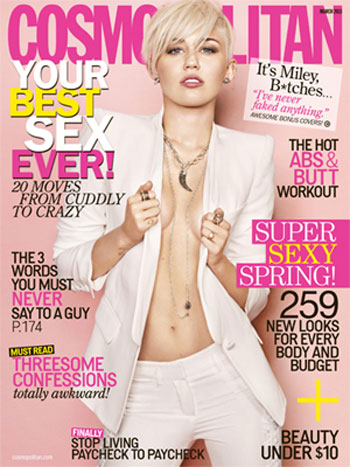 For her sexy new Cosmopolitan magazine cover Miley Cyrus continues her crusade to let us know she's not a kid any more.  Check out an excerpt:
Cosmo: Do you think they ever really did? When pictures from your personal life would leak, they presented a very different image than Hannah Montana.
Miley: Some of the worst things that have happened in my career, like things getting leaked, have actually been what's best for me, because people knew when I was on that show that I was really growing up. I never faked anything. I never played the Disney game of smiling and being a princess and then suddenly having a hard time, saying, "That isn't who I really am."
Cosmo: You collaborate with many unexpected names on this record. Safe to say you have a new sound?
Miley: I wrote this song with Mary J. Blige, and Tyler the Creator heard it and said, "I am obsessed with this song, and I will guest on it if you promise me that you will keep it on the album." And he killed it! I really didn't want to make a hip-hop record, and I'm not trying at all to be a Rihanna or a Nicki [Minaj]….That's not my vibe. When I was growing up, my older brother would sneak me Nelly CDs, my dad had me listening to Dolly [Parton] and Johnny [Cash], and my mom is a complete metal head. So this record is a weird mixture of all that.
Check out the behind the scenes from the shoot after the jump and read the whole interview here.
Photo: Cosmopolitan / Matthias Vriens-McGrath