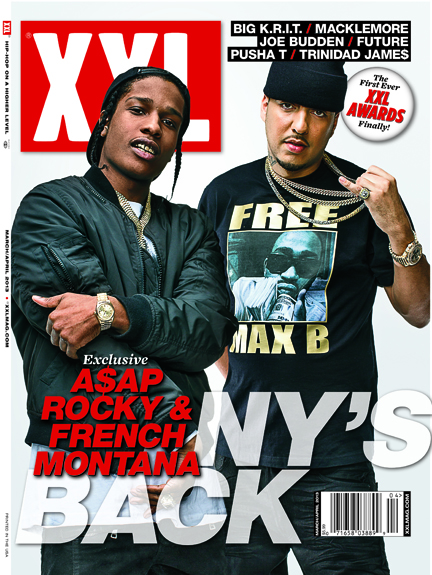 Rocky's debut album, LONG.LIVE.A$AP, debuted at No. 1 on the Billboard 200 in late January. On the day of the release, he sat down with XXL's editor-in-chief, Vanessa Satten, for a lengthy discussion, which touched on a variety of topics, including the death of his father, who passed away on Christmas Eve 2012. Rocky recounts how hurt he was to lose his father so suddenly, right on the eve of his album release and his subsequent rise. Rocky also talks about his parents' love for hip-hop and their biggest influences, which helped him grow into the artist that he is today.
In the other cover story, French Montana, whose debut disc, Excuse My French, drops on April 16, XXL racked up a dozen pieces of interesting tidbits about himself, ranging from his hopes for the album and his relationship with 50 Cent to reflecting on the day he was shot in the head.
See their solo covers over at XXL.