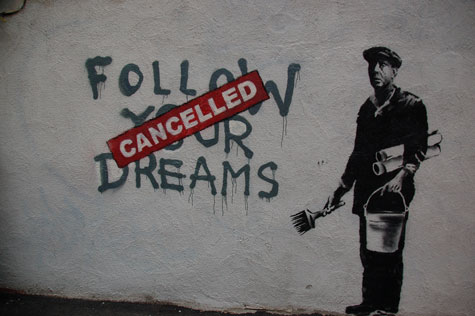 A story went viral today about one of the world's most talked about political activists and street artists Banksy being arrested in London and having his identity revealed as a 39-year old man from Bristol, England named Paul, which even had this accompanying quote form a London police chief:
"We had a 24-hour Anti-Graffiti Task Force monitoring different groups known to have associated with Banksy. We received word that around 2am a group of individuals left a flat speculated to be one of Banky's art studios. This group was followed by agents and once vandalism had occurred, we then arrested the group, 5 men total. These individuals all had ID on them except for one, and that is the one we believed to be Banksy. We then raided the studio where this group was last seen leaving from. Inside we found thousands of dollars of counterfeit money along with future projects of vandalism. We also found a passport and ID of a Paul William Horner who matched the description of the man that we are currently holding. Horner is currently being held without bail on charges of vandalism, conspiracy, racketeering and counterfeiting. We are also holding the other four individuals whose names we are not releasing at this time."
But now the original story has been removed and it looks like Banksy is still balling.  Carry on.