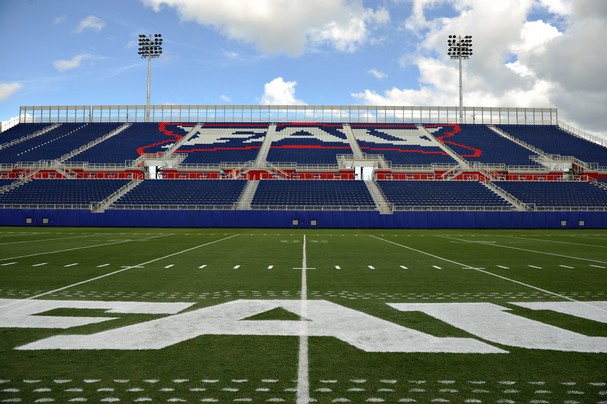 Continuing the growing trend of stadiums raising big bucks by selling naming rights to companies like KFC and Met Life, Florida Atlantic University in Boca Raton will now change it's football stadium's name to GEO Group Stadium.  Higher ups at the University don't seem to mind that GEO Group which will put up $6 million for the $70 million stadium, is a company that owns prisons but some are concerned:
The university's president described the deal as "wonderful" and the company as "well run" and by a notable alumnus. But it also left some unsettled, including those who study the business of sports and track the privatization of the prison industry. To those critics, this was a jarring case of the lengths colleges and teams will go to produce revenue, of the way that everything seems to be for sale now in sports — and to anyone with enough cash.
"This is an example of great donor intent, terrible execution," said Paul Swangard, the managing director at the University of Oregon Warsaw Sports Marketing Center. "Here's a guy with strong ties to the university, who wants to make a difference, and is mixing his philanthropic interest with a marketing strategy that doesn't make any sense."
No big deal?