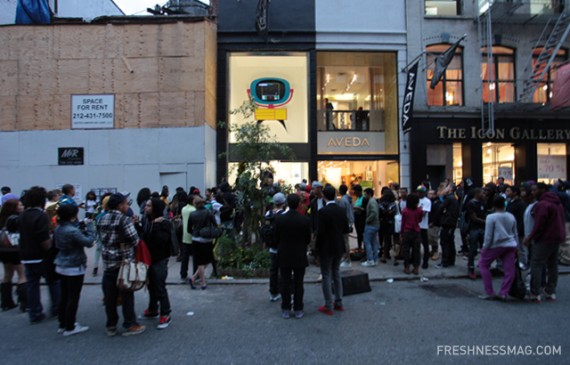 The BBC store during FNO 2011
After four years of success Fashion's Night Out has been cancelled in the United States this year and will only take place in other select cities around the world. From WWD:
Launched at the height of the 2009 recession in New York, FNO was a celebration of shopping at a time when it was desperately needed to jump-start the city's economy. After a positive consumer response, the event was held again in 2010, 2011 and 2012. By its fourth year, FNO had expanded to stores in over 500 cities nationwide and 30 cities around the globe.
Over the past four years, designers and retailers found that they have had to invest more and more of their resources to maintain a high level of quality, and there unquestionably was some backlash, especially from designers who were staging fashion shows at the same time. The sponsors of the event — Vogue, the Council of Fashion Designers of America and NYC & Co. — made the joint decision to go on hiatus so retailers and designers can focus their budgets on projects that are more in line with their specific objectives, rather than a big event on one night in September.
It was getting a little crazy and no one seemed to be buying anything, will you miss it?