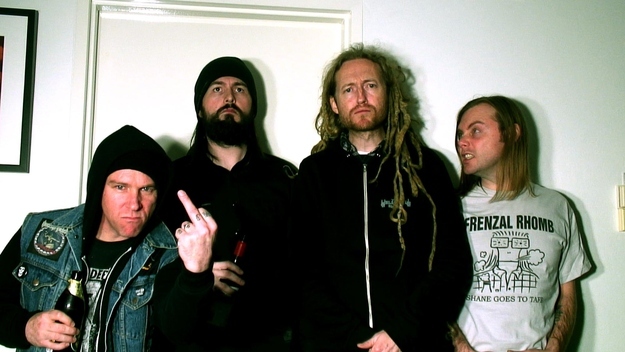 After eating a vegetarian burrito singer Jay Whalley (with the dreads) from Australian punk rock band Frenzal Rhomb was diagnosed with a brain tumor which luckily he was able to have safely removed shortly after this photo.  Here's his story:
So the tapeworm eggs live in pig flesh (most common in C America but found in loads of other countries too), the pig is killed and the meat undercooked and eaten by old mate. Old mate grows a tapeworm in his intestine which eventually produces eggs. Old mate goes to el baño, doesn't wash his hands properly then busies himself cooking my vegetarian burrito. Gross.
Once in my stomach they never become tapeworms but they migrate into the muscle, most of the time causing no problem and you'll never know it's there, the only place you'll have problems is if they make it to your brain or eyes.  Once in the brain the body reacts by sealing it in a kind of cocoon or cyst where it quite happily lived for 4 fucking years! It's only when it dies that the body has some kind of inflammatory response resulting in swelling which in turn lead to the seizures.
See the photo from after his surgery after the jump.