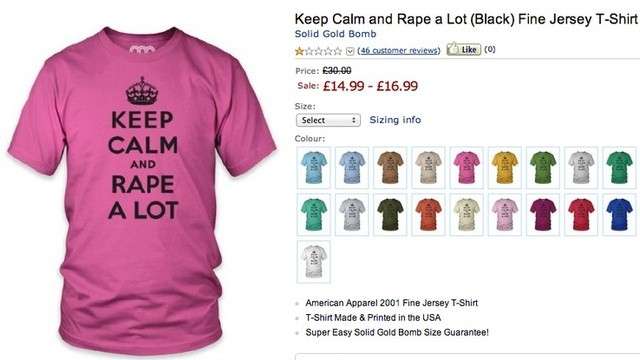 We can't make this stuff up.  After receiving tons of back lash from social media, Amazon UK has pulled the above t-shirts from their website and the company owner of Solid Gold Bomb – Michael Fowler issued the following apology.
I am sorry.
As the party responsible within our company for scripting and creating this automated process that created the matched slogans for this "Keep Calm" series, I apologise for the offensive response this has created across the world.
No words can express how I feel about what has occured and in no way do I condone or promote this serious issue. I will offer a more in depth explanation of cause to explain what and how this occured. Both myself and our company and it's associated Solid Gold Bomb brand have never had any intention of the spread of violent slogans or even poor taste humour t-shirts. This was a computer error of my creation and I accept my responsibility in the matter.
Read the rest of the apology HERE.