The Petite Syrah Café In France Charges Rude Customers More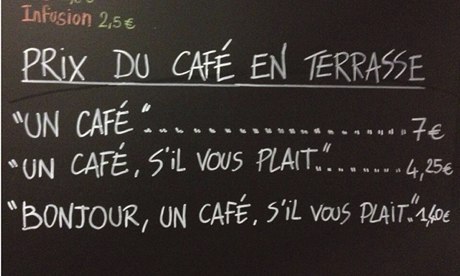 The Petite Syrah, a small café in the South of France in now in the Internet spotlight  after making a change to their menu based on good and bad manners. A diner and twitter user captured this sign posted outside the establishment, which states "Un café – €7, Un café s'il vous plaît – €4.25, and Bonjour, un café, s'il vous plaît – €1.40. The cafe's manager Fabrice Pepino, who was surprised his actions drew so much attention, spoke to the local Nice-Matin newspaper, saying:
We live in a strange old world. For three years we have put all our passion into what we do, which is trying to offer quality food, and good wines … and it's this that creates the buzz. A few words on a blackboard… It wasn't even an original idea. I saw it on the internet and liked it … but I was planning to rub it out.
He later spoke about his idea to English language website the Local, explaining that:
[It] started as a joke because at lunchtime people would come in very stressed and were sometimes rude to us when they ordered a coffee. It's our way of saying: 'Keep calm and carry on.' Most of my customers are regulars and they just see the funny side and exaggerate their politeness. But people are more relaxed now, and they're smiling more. That's the most important thing.
Are there any LIFERS that think this would work in their city?